Do you have a plastic Aadhaar card?
If you have such an Aadhaar card, there could be a big loss, UIDAI warned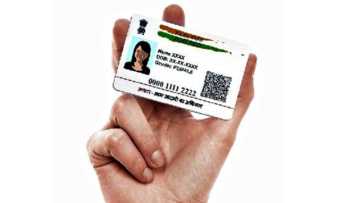 Be careful if you have laminated your Aadhaar card or are using Aadhaar card like plastic card. UIDAI has warned against such support. Doing so could cause your Aadhaar card's QR code to stop working or even steal personal information, UIDAI said. UIDAI says that by doing so, your personal information may be passed on to others without your consent.
UIDAI issued a warning
This Aadhaar card is harmful for you
Your personal information may be stolen
This damage will happen
UIDAI issued a statement stating the damage to the plastic Aadhaar card.
The authority said not to use plastic Aadhaar or smart Aadhaar card. Such a card poses a threat to the privacy of Aadhaar details. According to UIDAI, plastic Aadhaar cards often do not work. The reason behind this is that its QR code does not work due to unauthorized printing of plastic base. At the same time, there is a risk of sharing personal details in Aadhaar without your permission.
Plastic figures can be made by spending so much money
The statement also said that people are charged between Rs 50 and Rs 300 in the name of printing the base on plastic or PVC sheets. In some places, even more charges are levied. UIDAI has advised people to stay away from such shops and people.
Such a basis is also considered valid
UIDAI has emphasized in its statement that apart from the original support, the support downloaded on a plain paper and the Aadhaar is also fully valid. So you don't have to fall into the trap of smart support. Not only this, with the help of fire you can do welding. Also separate Aadhaar card lamination and plastic Aadhaar card is not required. If you lose your Aadhaar card, you can download Aadhaar for free from
https://eaadhaar.uidai.gov.in